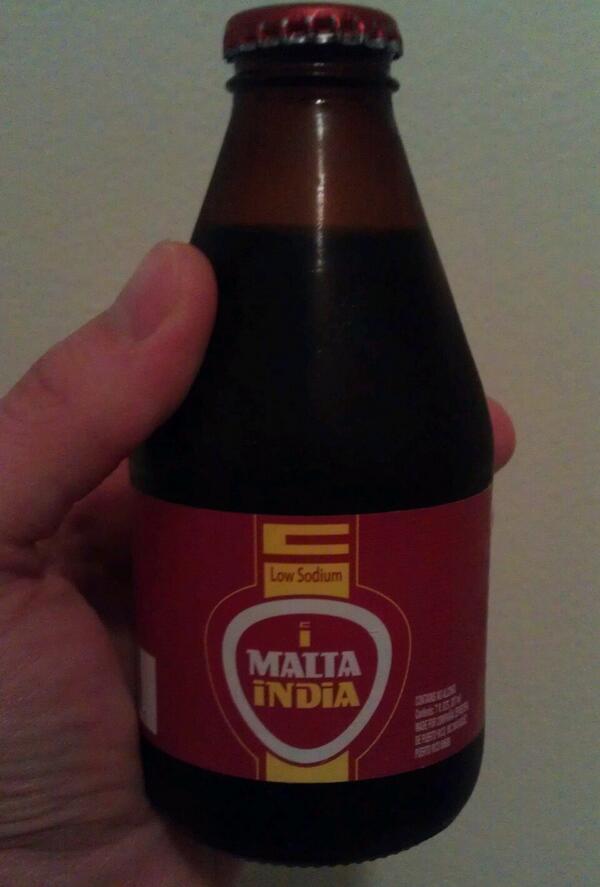 Despite the name, Malta India¹ hails from Puerto Rico. I've never heard of it, and honestly it stood out to me mostly because of the adorably diminutive bottle. But looking at the label–it's a non-alcoholic malt beverage. So…I'm not totally sure what's in store here.
It smells strange. Like…soy sauce, maybe? Or oyster sauce on beef? It doesn't smell like beer, that's for damn sure.
Yeah…that tastes weird.
It's not exactly sweet, and it's not sour…but it's not good, either. It tastes like bread and soy sauce blended together. It's a very "thick" flavor.
I was thinking maybe it would taste like kvass, but no such luck.
Well, Wikipedia tells us that "Malta" is actually the name of a whole genre of sodas, and describes them as "beer that has not been fermented". Also, it's apparently often drunk mixed with condensed milk. That might help.
I guess I'm getting used to the taste. I still don't really like it. It really does taste like something that should mixed with something else, or diluted, or…something.
But hey, according to Wikipedia, it's rich in B vitamins. (The bottle doesn't say so, but that doesn't necessarily mean anything.)
Yeah, now it just doesn't taste like much of anything. It's just…it's not my thing. I'd try mixing it with condensed milk, though. That might work.
I finished it. It's not like there was a lot of it. I won't recommend it–having never had a malta before, I can't say if it's a good example or not–but I finished it without too much trouble.
¹Produced by Comapañia Cervecera de Puerto Rico, Inc.