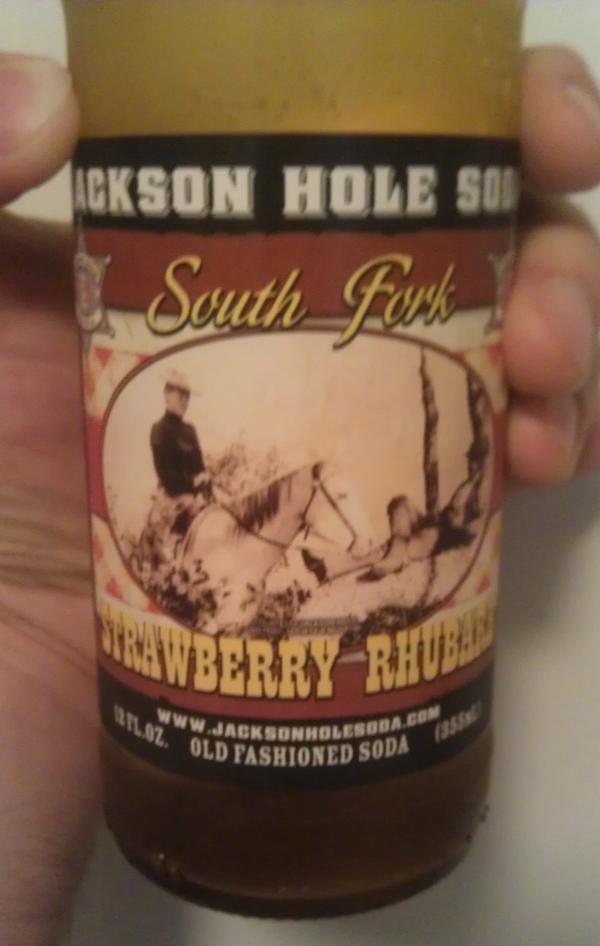 I've never been to Wyoming. So I'll do the next best thing: drink a soda from there! Hailing from Jackson, produced by the Jackson Hole Soda company, it's Strawberry Rhubarb soda!
Now, I've had strawberry rhubarb pie before; it used custard, and doubtless followed the old rule about cooking with rhubarb ("take all the sugar you can imagine, and double it"), so I'm not expecting a similar taste here. I'm actually not sure what to expect.
Smells very strawberry-ish. I'm not a big fan of strawberry, especially not artificial strawberry.
Not too bad, though. Similar to a strawberry soda, but a little smoother than usual.
Yeah, it's definitely not as cloyingly sweet as I expect from fake strawberry (so it might actually be decently real). I'm not getting the tartness I'd expect from rhubarb, though.
To be fair, I've had this soda for a few weeks, so it may have lost a touch of its potency. I sufficiently chilled it, though.
So far, pleasant enough. There is a very faint tartness there, and it does taste a little more like a strawberry soda in theory should.
Also, the bottle's an interesting color. It's not brown like a beer bottle; it's sort of an amber color, one which I don't recall ever having seen in a soda bottle before.
So, overall, not one of the great sodas, but if you like strawberry, you'll probably be satisfied. There's really not that much to say about it.
I really want some of that rhubarb pie, though. That stuff was great.