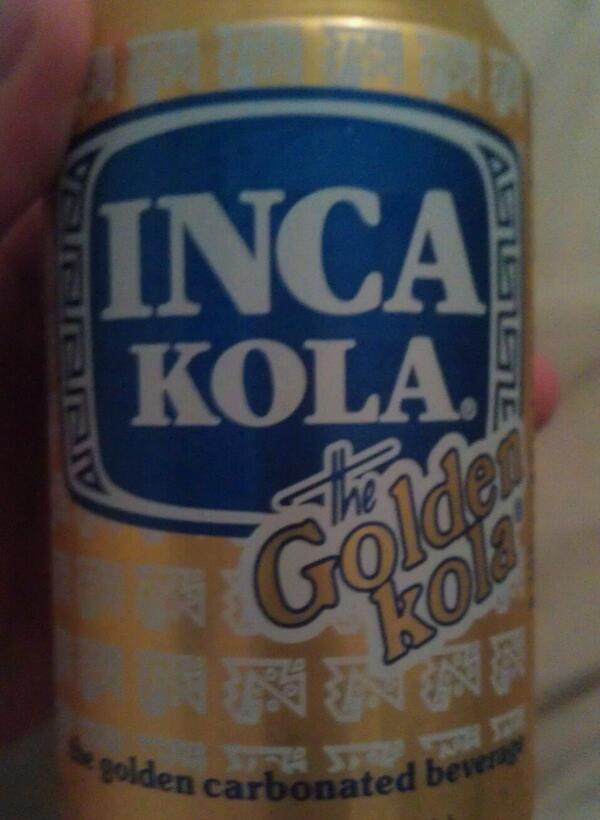 Coming in a snazzy gold can that looks like an 80s beer can, Inca Kola is Peruvian in origin, and reputedly tastes like bubblegum. I've heard about it, but this was the first time I'd so much as seen it. So naturally, I have to give it a shot.
Smells a hell of a lot like bubblegum. Good?
Tastes…like bubblegum. Since I find the flavor of bubblegum to be reasonably pleasant, I'm not upset.
According to Wikipedia, the main flavoring agent in Inca Kola is lemon verbena, which is not actually a type of lemon, but a plant that tastes very much like it.
It isn't bad. I wouldn't consider the flavor of bubblegum a particularly good one for a drink (though I found an outright bubblegum soda at the soda shop and will be drinking it soon), but just for the sheer novelty of it, it's definitely worth trying.
It's refreshing in its own way. It's so unlike any other soda I've had that I'm not really sure how to review it. But I do like it. I'd drink it again, for sure.
And this can is seriously cool looking. It's really one of the more aesthetically accomplished cans I've ever seen.
Yeah, I like it. I wouldn't drink it super often (it seems like one of those tastes you could get sick of easily), but any serious soda buff needs to try this. When I have it again, I'm pouring it into a glass to check out the color, which is itself somewhat unique.
There's something special about trying something unique. It gives you a good, optimistic feeling. Inca Kola gives me that feeling.