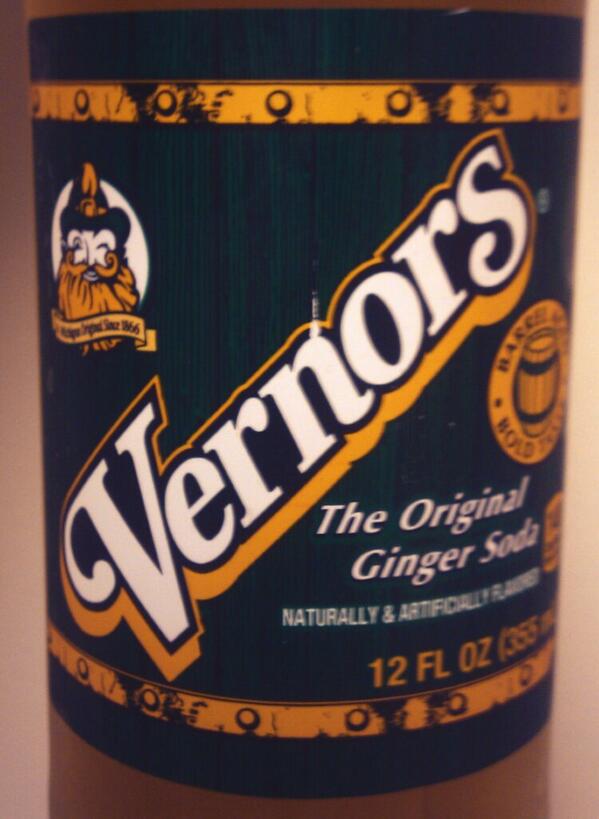 Vernors is ginger ale royalty. It's been around for nearly 150 years, and while there have apparently been changes in the formula (and, as Wikipedia, complaints of a decline in the drink's quality), it appears to be going strong. But is it good? Well, since I've got the opportunity to drink it out of a well-chilled glass bottle (cans are all good and well, but 2-liters of this stuff go flat quickly), let's see.
It's a golden ginger ale, as opposed to a dry ale, giving it a richer, sweeter taste. At least in theory. This bottle…the flavor seems to be eluding me. Here's a rundown of the charges made against the decline of the drink, and the description of it as "sweetened carbonated water with ginger flavoring" seems to be more accurate than I wanted to admit.
I feel the golden ale struggling against the tendency towards dryness, but it doesn't quite break through. My memory tells me it tastes sweeter and has a stronger vanilla undertone (almost like a cream soda), and it may be that the 2-liters and cans preserve the flavor more perfectly than the glass. I hope so.
It's like the difference between a footprint and a foot. Vernors used to (and I hope in some variants still does) pack a real punch, boast a bold, complex flavor, used to be a truly great soda. Now you can tell that there was greatness there, but it recedes. And so we beat on, boats against the current, borne back ceaselessly into the past.
I still recommend seeking out Vernors, but in cans. The bottled form just doesn't cut it. Maybe if you drink it right away (I've had this bottle two weeks or so) it'll retain its strength, but what I drank today was, while refreshing, NOT the classic Vernors I once knew. Perhaps it is gone for good. Perhaps the ginger beers are my solace now. But I hope the golden greatness is still out there, somewhere.
Side note: the specific blending of Vernors and vanilla ice cream (not a float, a blending) is called a "Boston Cooler".