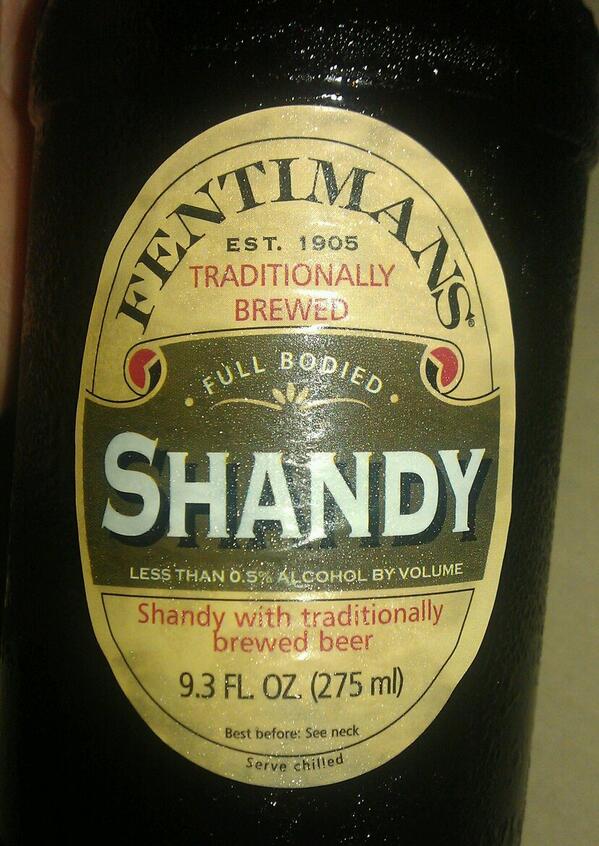 While my experiences with Fentimans' drinks have been uneven, I was quite intrigued to try their shandy, a traditional English blend of beer and lemonade (or ginger ale). I've never had shandy to my knowledge, and the prospect of that–plus the fact that the beer used here had been mostly de-alcoholized–made this a shoo-in for my next review. Plus, as a classic summer drink, it seems a good way to beat the mounting heat.
Smells beerish.
I wonder if this has gotten at all warm. The bottle felt cold, but this has some of the qualities of warm beer, which I'm not fond of. But let's proceed.
It's actually not bad. It's a pretty standard lager flavor, but with strong lemon notes. Not totally unlike the Arnold Palmer (which uses iced tea instead of beer).
Yeah, for my taste, I would've preferred more lemonade in the mixture (the bottle says that the shandy is 70% beer), but if you're into lager, you should be very satisfied.
Hit a bitter patch. Like I said, it's beerish.
Really, I think that sums it up pretty well–if you like lager, and like lemonade, then I'd say they go pretty well together. I'm not much for lager (I prefer darker beers), but knowing what I know about them, this should do the trick for buffs.
That one bitter bit aside, it goes down quite smoothly. So really, no complaints.
I'll definitely try future Fentimans products (like re-reviewing their Cherrytree Cola).