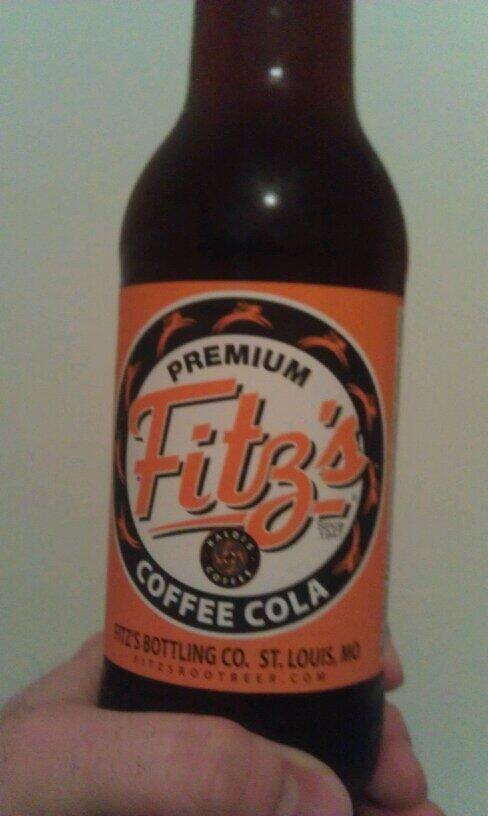 I love coffee, and I love coffee in cola–Succotash in KC has a drink called "The Ray Charles", wherein espresso is poured into a glass of Mexican Coca-Cola (since that uses cane sugar). It's delicious. So perhaps this soda, made by Fitz's Bottling Co. in St. Louis, will be equally tasty.
The first thing I notice is the taste of sweet coffee–almost more like coffee syrup than the brew. But the ingredients list says "Kaldi's coffee", so…
The second sip, I get more of a cola taste. It's still more coffee than cola, which is not really the best configuration, but I'll stick with it.
Okay, I think this is along the same lines as Manhattan Express' Espresso Soda. It's really just a coffee soda. The "cola" is mostly fizz and a little flavoring.
It's still a bit more syrupy than I really like, but it's not bad. My love of coffee makes up for its technical shortcomings.
It's a minor thing, but I really like the coloring of the label–orange (my favorite color) and either a very dark blue or a brown (I can't quite tell). It just looks nice.
Yeah, it's not bad. But really, if you can get a Ray Charles (or just make such a drink yourself), do so. It works a lot better with fresh coffee.
I know I had Fitz's root beer (their flagship product) once, but as I recall, it wasn't especially memorable.
I will try other coffee sodas, though. I bet they'd make awesome floats.