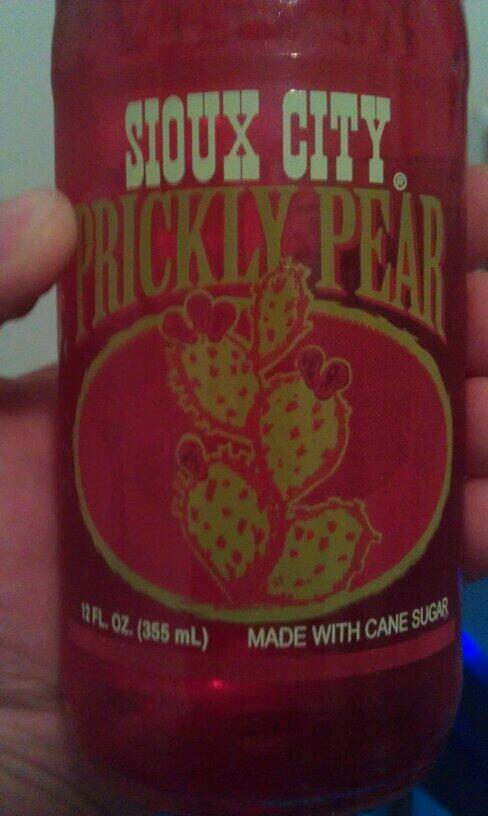 This soda has been hyped up to me by a former roommate, so naturally, my estimation of his opinion (and of him as a human being) is riding on my appreciation of this. Let's see if I ever listen to him again.
Smells all right.
That's…that's a unique taste.
It's the taste of a prickly pear. I don't quite know what I'd compare it to.
It's a fairly light fruity flavor, but it's got a bite to it. There's hints of strawberry and melon (like, cantaloupe or honeydew), but with an unmistakable…well, prickliness.
Kiwi. Strawberry and kiwi. That's it. But with that…prickliness.
Now, do I like it? Well…let me put it this way. It's probably as good a prickly pear soda as you're ever likely to try. But I'm not over the moon about the prickly pear flavor. It's a little on the heavy side (like I sometimes find strawberries to be), though if kept cold, it's not bad.
Let me add, it's grown on me. It's not something I'd drink every day, but I'd definitely have it again.
Props for the color, too. It's sort of red, sort of red-purple, sort of pink…it's an interesting-looking beverage.
It's a really interesting soda. If you want to try something new, try this. I don't think many other brands are making this stuff. (There's one other brand out there, from a company I'm not familiar with.)
Yeah, give this a shot. You might really like it. It's something that should probably be kept in moderation–I would get sick of this pretty quick if I had to drink it all the time–but it's definitely worth trying once.
John…you were right.